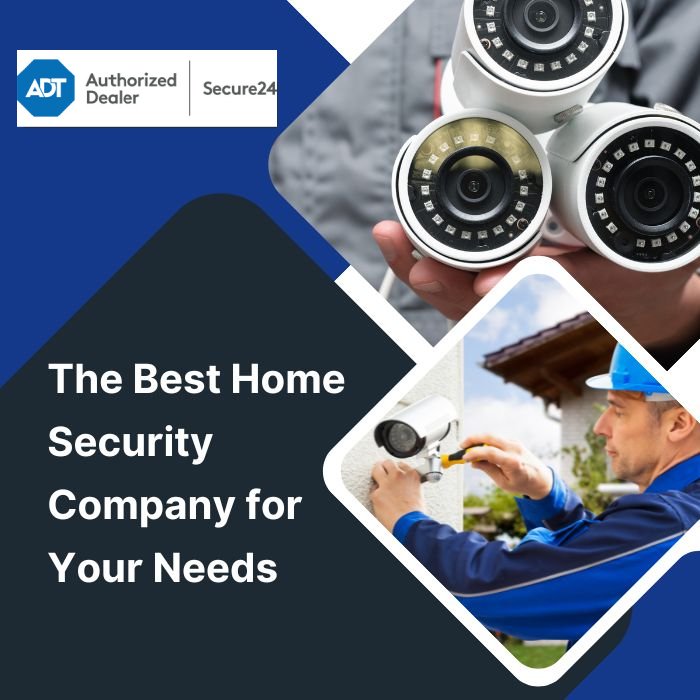 05 Sep

How to Choose the Best Home Security Company for Your Needs

Home security is one of the most important investments you can make for your peace of mind and safety. But with so many options available, how do you choose the best home security company for your needs?

In this blog post, we will help you answer that question by providing some tips and factors to consider when comparing different home security companies. We will also explain why having a monitored home alarm system can offer you many benefits, such as potential homeowners insurance savings and faster emergency response.
What Features to Look for in a Home Security Company
When choosing a home security company, you should look for one that offers the following features:
Smart security: This refers to the ability to control and monitor your home security system from your smartphone or other devices. You can arm and disarm your system, check the status of your sensors, receive alerts and notifications, and even view live or recorded footage from your security cameras.
Video doorbells: These are smart devices that replace your traditional doorbell and allow you to see who is at your door, communicate with them, and record their activity. Video doorbells can deter potential intruders, prevent package theft, and let you know when someone arrives or leaves your home.
Motion detectors: These are sensors that detect movement in your home and trigger an alarm or a notification. Motion detectors can help you protect your valuables, detect intruders, and monitor activity in your home. Some motion detectors can also distinguish between humans and pets, so you don't have to worry about false alarms.
Remote viewing of security cameras: This feature allows you to access your security cameras from anywhere and watch live or recorded video of your home. You can use this feature to check on your family, pets, or property, and to verify any alerts or alarms.
Benefits of Having a Monitored Home Alarm System
A monitored home alarm system is one that is connected to a professional monitoring center that can respond to any emergencies or alerts triggered by your system. Having a monitored home alarm system can offer you the following benefits:
Faster emergency response: When your system detects an intrusion, fire, or medical emergency, it sends a signal to the monitoring center, which then contacts the appropriate authorities on your behalf. This can save you precious time and potentially save lives.
Potential homeowners insurance savings: Many insurance companies offer discounts or lower premiums to homeowners who have a monitored home alarm system. This is because having a monitored system can reduce the risk of property damage or loss due to theft, fire, or other hazards.
Peace of mind: Knowing that your home is protected 24/7 by a professional monitoring service can give you peace of mind and confidence. You can rest assured that your home is secure and that help is always available in case of an emergency.
How to Compare Different Home Security Companies
Before you decide on a home security company, you should compare different options based on the following criteria:
Reputation: You should look for a home security company that has a good reputation in the industry and among customers. You can check online reviews, ratings, testimonials, and complaints to get an idea of how reliable and trustworthy a company is.
Experience: You should look for a home security company that has been in business for a long time and has extensive experience in installing and servicing home security systems. You can also ask for references or portfolio examples to see their previous work and results.
Customer service: You should look for a home security company that offers excellent customer service and support. You should be able to reach them easily by phone, email, chat, or social media. You should also be able to get answers to your questions, concerns, or issues promptly and professionally.
Pricing: You should look for a home security company that offers fair and transparent pricing for their products and services. You should be able to get a free quote or estimate based on your needs and preferences. You should also be aware of any hidden fees, contracts, or cancellation policies.
Conclusion
Choosing the best home security company for your needs can be a daunting task, but it doesn't have to be. By following the tips and factors we discussed in this blog post, you can make an informed decision that suits your budget and lifestyle.
Remember, having a home security system is not only a smart investment for your property but also for your safety and well-being. Don't wait until it's too late; contact us today to get started with your free consultation and quote!